Our Products:Health Food & Food Additves Ingredients
JUJUBE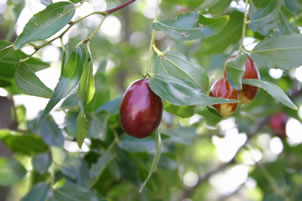 General information of JUJUBE
Jujube comes originally from north Africa to west Europe regions and was historically cultivated by Latins. The fruit of jujube is used as a medicine material in Spain, Portugal and East Asia. China has also used this for long time. Jujube came to Japan around the 8th century, and is called "natsu-me"(summer-spear) in Japanese because of its spears which appear in early summer. Because the fruit has a good sweat-sour tastes, Chinese & Koreans enjoy jujube fruit as a preserve and in soup using jujube as a "food & medicine at the same time". Jujube is one of the most important medicinal herbs in China used to control other medicine functions. Also, it has the ability to maintain bodily functions leading to more energy and good health.
JUJUBE EXTRACT POWDER is available.
Please go to "inquiry" to ask for more details.